Met de première van Star Wars: The Last Jedi verscheen er op het officiële Twitter account van de hitserie The Walking Dead een aankondiging van de hervatting van seizoen acht. Dit gebeurde in de vorm van een poster, volledig in de stijl van Star Wars. Het bericht kun je hier of hieronder bekijken.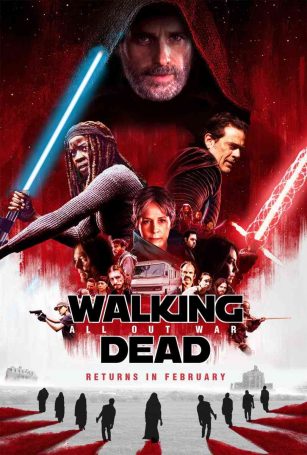 SPOILERS! Het is geen geheim dat de producenten van The Walking Dead soms hints in de afleveringen stoppen, in de vorm van 'easter eggs'. De afgelopen seizoenen werd er ook al meermaals door de nauw oplettende fan een Star Wars-hint opgemerkt. Met deze poster wordt alleen maar bevestigd dat het productieteam naast het zombie-universum ook groot fan is van het Star Wars-universum.
De poster is gedetailleerder dan het op het eerste gezicht lijkt. Er is geprobeerd de poster op precies dezelfde manier in te vullen als het origineel. Waar er een Star Wars personage op de poster staat, is het een op een vervangen door bijvoorbeeld walkers en de acteurs en actrices uit The Walking Dead. En daarbij is ook gekeken om de personages op passende wijze in te vullen.
Wat ook opvalt is dat Carl mist op de poster. Waar hij eerdere seizoenen nog prominent aanwezig was in reclames, teasers en posters moeten we nu echt accepteren dat we hem waarschijnlijk nog maar een keer terug zullen gaan zien. Zoals je eerder bij Alles over Series hebt kunnen lezen, is Chandler Riggs namelijk uit de serie geschreven. Het verhaal zal hiermee een hele andere richting dan de comics op gaan. Met de poster wordt dit nog even extra bevestigd.
Geschreven door: Dion Balfoort
Beeld: AMC, Twitter The Walking Dead
© Alles over Series